"If we always helped one another, no one would need luck."
It's Monday, and we're back with another helpful post centered on helping you overcome some of the most commonly asked questions about the APIs we work with here at Kloudless. Every Monday, we will aim to help answer some of the oft-asked inquiries into the world's most popular APIs. Today, we will be focusing on one of the construction industry's leading project management software options: Procore.
Procore is a cloud-based construction management software application that helps firms to increase their project efficiency and accountability by providing streamlined project communication and documentation. From the office or the construction site, users can manage all of their projects from any web-connected mobile device, tablet, laptop, or desktop. Everyone from general contractors and architects to engineers and construction management firms can edit and share project data while facility owners can view the progress of each project in their portfolios. With the aim of being a one-stop-shop for all of your project management needs, Procore also offers integration of over 100 third-party apps.
Procuring Procore
To connect with the Procore API, we'll be using one of the industry's best API testing platforms: Postman. Postman is an indispensable tool for working with and testing REST APIs. Postman is an application that can run as a Chrome app or natively in Windows or Mac OSX, so before we get started, make sure you download and install the app onto your computer.
Before we can make a call to the Procore API using Postman, we have to configure OAuth 2.0 authorization by using Postman's token management tool. Generating OAuth 2.0 Tokens in Postman is relatively straightforward, so follow the instructions linked above and you'll be all set to go. In this example, we'll use a development sandbox environment, but for your production application, you can easily configure OAuth 2.0 and generate access tokens for your that environment.
Once you set up your OAuth 2.0 authorization, you'll be able to generate access tokens to access the Procore API. Let's take a look at the environment setup of Postman before we breakdown what's happening in this picture.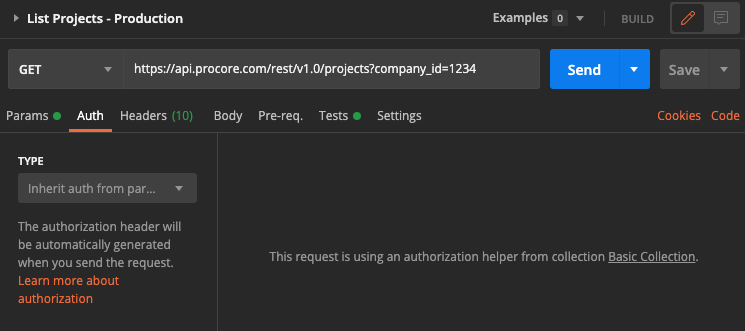 In the top left of the picture, we've set the HTTP verb to GET.
In this example, we will hit the List Projects endpoint. Note that you'll have to enter a valid company_id value. https://api.procore.com/vapid/projects?company_id=1234.
On the left side of the page, the Authorization Type is set to 'Inherit auth from parent.' After configuring OAuth 2.0 in Postman at the collection level, this will allow access to the API.
There's one more step to take, which is to send the company_id along as a header. Set the Procore-Company-ID header value as needed to work with Multiple Procore Zones (MPZ). Here's an example of how that looks from the Procore documentation.

That's all you need! Just press the 'SEND' button and you'll receive a JSON response with a list of projects for your company like so:
1

2

3

4

5

6

7

8

9

10

11

12

13

14

15

16

17

18

19

20

21

22

23

24

25

"display_name"

:

"Demo Project"

,

"address"

:

"9999 First Street"

,

"latitude"

:

34.385045633646

,

"longitude"

:

-

119.490841957738

,

"stage"

:

"Course of Construction"

,

"created_at"

:

"2016-08-22T20:18:55Z"

,

"updated_at"

:

"2017-12-18T22:49:07Z"

,

"name"

:

"My Construction Company"
What's Next?
Great! So, now you can hit the Procore API and begin to integrate with the powerful platform in your application. There are many other construction project management platforms out there, though, so why offer a single service when you can provide your users with access to any of their preferred construction platforms? In the same amount of code it would take to connect to a single service, you can provide your users with multiple different platforms through the Kloudless Unified Storage API. Click here to learn more!